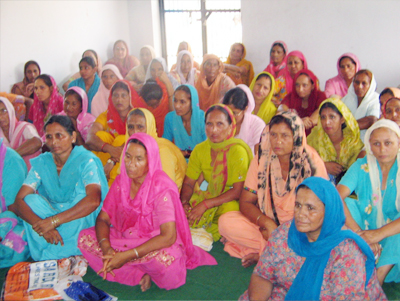 During our course of monitoring of stitching locations, we tried to find out why child labour is involved. SGFI found that these women are under debt constantly. This is because whenever they needed money, which in most cases for a small amount for emergency purposes, they would end up borrowing money from the local money lender in the village.
They would end up borrowing as they are not able to get loans for their micro finance needs. These money lenders would charge them an exorbitant rate of interest (60 % in most cases). Looking at this, SGFI decided to get them out of debt trap and SGFI started building Self Help Groups (SHG). 73 SHG's were built with 15-20 women in each group covering 1400 families. Each woman in a SHG are contributing Rs. 100/- monthly into their group's kitty. SGFI opened each SHG's bank account.

The money so collected is being used by the SHG members for inter loaning amongst members. Few SHG have also availed of a bank loan & have successfully repaid back also. The banks have allowed them overdraft facility also. SHG's have used the money for opening up some economic activity such as a grocery store, dairy farming, poultry farming etc.
With SGFI's machine stitching of footballs project, SGFI transferred these women to an alternate trade as they would be getting displaced due to machine stitching. SGFI is also in the process of linking these families with health insurance & micro finance needs.
Shg's have their monthly meetings. Each shg comprises of one secretary, cashier and a president. They maintain recoded of their monthly meetings and update their accounts register.
Presently 63 shg are active and running. the number of groups and the banks where they are opened up is as follows.
| | |
| --- | --- |
| Name of Bank. | No. of Groups. |
| State Bank of India. | 03. |
| Cooperative Bank. | 14. |
| Bank of Baroda. | 12. |
| U.C.O. Bank. | 04. |
| Punjab National Bank. | 08. |
| Capital Local Area Bank. | 03. |
| Bank of India. | 03. |
| Punjab Gramin Bank. | 09. |
| Canara Bank. | 03. |
| Allahabad Bank. | 03. |
| Punjab & Sind Bank. | 01. |
| Total. | 63. |